Track & Trace: Sophie Ultee
In this edition we're talking to Sophie Ultee, Studio & Project manager at Amp.Amsterdam. Although Sophie has been attending parties and festivals for years, she only really got to know the production side of the music industry after she started at Amp.Amsterdam in late 2021. 
Track & Trace: a series about our love for music. 
"It took me a while to put together my Amp.Amsterdam playlist. There are so many different music genres, and there's so much I like! It depends on my mood which music I want to listen to at that moment. So making a final selection for my playlist was quite difficult. My first CD's were by the Backstreet Boys, Spice Girls, and No Doubt, but those aren't included in the thirteen songs for my playlist, even though they could have been. You see, the playlist still feels incomplete. 'Sophietje' by Johnny Lion had to be in there though. That's the song people sometimes sing to me whenever I introduce myself. It's a very sweet song, so innocent. It matches my name, and like Sophietje from the song, I've spent a lot of time in Amsterdam: I've lived and worked there for years. Although my father, of all people, never calls me Sophie, but Mies.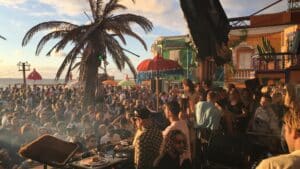 I am similar to my mother. She is a party animal, and I went to my first concerts with her. In 1997 we went to a Michael Jackson concert in the Arena. I can still remember the way he shot out of the stage with a rocket. But I've loved dancing at house music parties for as long as I can remember as well, instead of going to bars I would go to Studio 80 for example. I always go into the middle of the crowd so that I can get completely immersed in the music. What I like about festivals like Lowlands for example, is that so many different types of people attend, people you might not usually interact with. But at these festivals everyone comes together for the music. As crazy as it sounds: music is love, it connects. These nights aren't over for me as soon as I lie in my bed. I love talking about the music afterwards on the couch with friends, while enjoying a good bottle of wine (or a cup of tea) and delicious food. 
Before I started at Amp.Amsterdam, I worked as a content producer at TBWA. I witnessed how in the advertising world, the music for a commercial or short film is often only considered in a later stage. It was changing though, music started becoming more and more important. Music was also being specifically composed for commercials more often. Now that I'm on the other side as Studio & Project Manager , I see how much work and craftsmanship adding music/sound takes. A small adjustment in the image can sometimes have a big impact on the sound. A 15/30 second commercial can sometimes take weeks to create. Besides learning a lot at my job and having a very fun team, I have also gained a great appreciation for the craftsmanship of my colleagues.